I'm in the Christmas spirit a little early this year, so I've switched to the Christmas Star theme here on Out of the Bloo. This theme will be up for the remainder of the holiday season.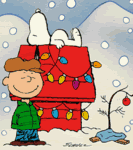 Tonight I watched the latter portions of the excellent A Charlie Brown Christmas. Would a cartoon like this be produced today? I don't think so. The overt and sweet spirituality of the show is a breath of fresh air.
I particularly love the decoration by the children of Charlie's scraggly little tree. What a fabulous picture of God's redemption!
Speaking of trees, we already have our tree setup, which has got to be a record here at the Roberts' household. We got our tree on Saturday from a local tree farm, which is a neat family tradition that we began years ago. Except for last year, which reminds me of another picture of redemption, communicated to me through another scraggly tree.
Merry Christmas.
For to us a child is born,
to us a son is given;
and the government shall be upon his shoulder,
and his name shall be called
Wonderful Counselor, Mighty God,
Everlasting Father, Prince of Peace.

Of the increase of his government and of peace
there will be no end,
on the throne of David and over his kingdom,
to establish it and to uphold it
with justice and with righteousness
from this time forth and forevermore.
The zeal of the Lord of hosts will do this.

– Isaiah 9:6-7 (ESV)